You are a soccer coach and searching information about tactics?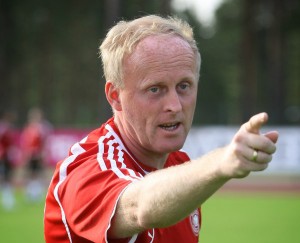 Ralf Peter is:
– the former DFB coach of the U17 and U16 national team Germany,
– speaker and presenter at numerous conferences trainer,
– author of many books and DVDs and about 110 articles in the journal "soccer practice" on various topics,
– presenter at the International Trainer Congress (ITK) of the German Soccer Coaches Association BDFL,
– presenter at U.S. Congresses u.a. NSCAA.
.
In his online seminar "Zonal Defending 9" he will provide information about these topics:
Strategies to win the ball (Analysis and Comparison)
Own system of play and its characteristics
Analyzing opponent's system of play
Pressing und types of pressing
Attackers defending
Preview Zonal Defending 9 – Slice 25:
Approach run/forechecking – Closing down – Channeling.
.
.
Soccer Coaches: Online Seminar Zonal Defending 9
Author: Ralf Peter:
Duration: approx. 48 minutes
Main Topics of this online seminar:
Basic rule: When losing possession, all players should be working on winning the ball back!
Defending strategy depends on, own system of play, coaching philosophy and types of players!
4-4-2 System of Play with midfield line (flat four)
4-4-2 with midfield diamond
4-2-3-1 System of Play
4-3-3 and Variation of 4-3-3
Key coaching points for pressing
Systems of play with two Centre Forwards
Systems of play with one Centre Forward
Approach run/forechecking – Closing down – Channeling.
Showing inside or outside?
Errors of showing inside
Ralf Peter shows 2 Training sessions to coach pressing.
.
.
Format: Flash (PowerPoint Presentation, illustrated with  easy Animation and easy Sports-Graphics)