Soccer Book
Soccer Book online:
Author: Wayne Harrison
Pages: 284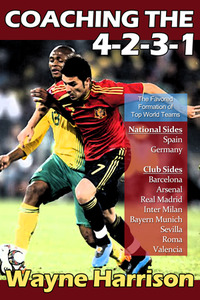 Description for this soccer book onlinne:
The 4-2-3-1 is the favored formation of many top teams in world soccer at both club and national team level.
This fluid, attack minded system has come to the forefront thanks to it's success at the highest levels. Most notably, Spain utilized the 4-2-3-1 in winning both the 2008 European Championship and the 2010 World Cup. Top club sides Arsenal, Real Madrid, Inter Milan and Bayern Munich have also had success with the system.
In this book, Wayne Harrison breaks down the 4-2-3-1 and discusses the principles, player roles and responsibilities, variations and adjustments based on the opponent's strategy.
He also offers a complete coaching plan to implement this system including specific training exercises complete with detailed diagrams and coaching points.
This is the most comprehensive coaching manual dealing specifically with the 4-2-3-1 ever written.
Reviews about this book:
Coolbaire37 "Cool" (Ireland):
"Excellent book covering the 4-2-3-1 system. It sets out different ways of playing the system and how to develop coaching sessions with a view to implementing the system with your team. This is a book for the more experienced coach and would be useful for a coach working at a professional or semi professional level. The 4-2-3-1 system set out requires a high level of technical ability and tactical understanding among players involved in order to fulfill its potential. A useful tool for any coach to have even if they don't intend to use this system with their players."
H. D. Jones
Wayne Harrison is the guru of the 4-2-3-1 and much more. He uses his experience to compare and constrast the system with others. In addition, he analyzes team play at professional level relative to the 4-2-3-1.