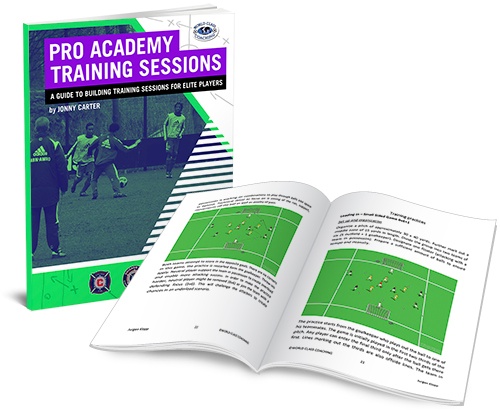 Pro Academy Training Sessions is a book not to be missed.  This guide will give you a front row seat to how the pro's train their young players.  It gives you everything you need to get the most out of your own training sessions and get your team firing on all cylinders.
The academies of professional clubs are responsible for developing young kids with potential into the world's top players.  This eBook shares how the Chicago Fire of Major League Soccer designs and builds their academy coaching curriculum and session plans.  Inside, this special eBook, you will see how they set up their session plans for individual technical training, small group training and tactical training.
Here is what you will find in this guide:
An in-depth look into curriculum building and session planning of pro academies

15 tips to help you better plan and design your own training sessions

A look at the principles of soccer and how to instill them into your players

A breakdown of formations for 5v5, 6v6, 7v7, 8v8, and 9v9

How to incorporate your coaching philosophy and style into your training sessions

Why the four corners model of Technical, Social, Physical and Psychological is so important
General traits for a successful "counter pressing" Player
Intense Stamina: All players must be capable of playing at full speed for an entire
90 minute match in order to keep the cohesion of the team defending block.
Technically Proficient: All players must be able to tackle, possess from the tackle,
quickly in order to take full advantage of their opponent's transition between
attacking and defending phases of the game.
Tactically Astute: All players must be able to recognize their ability to close their
opponents fast enough to negate their decision making time on the ball when
possession is lost. Each must also be able to quickly recognize the cues visual
indicating their team press would be on or off.
Psychologically in tune: All players must have a clear and consistent picture of
the counter pressing goal for their unit. Each one must be committed to and
dedicated toward the pack hunting mentality of the team.