Philosophy of modern child and youth soccer
Children's soccer is not adult soccer!

It's standards, objectives and methods shouldn't never be transposed onto the kids

Characteristics of organized soccer today
Coaches judged by wins or
high ranks in the standings or
titles or championships
Characteristics
The focus is not on the needs and interests of the children
Many practice activities are not appropriate for children (e.g. too monotonous)
The kids are under the external control of score-oriented coaches and parents; they're unable to play freely and without interference
Needed differences to adult soccer
ADULT SOCCER

CHILDREN'S SOCCER

PRACTICE
Oriented toward performance

and competition

New experiences, fun, learning soccer
MATCH PLAY
Game formation, tactics
Free play without interference
OBJECTIVES
Championship, promotion
Basis for lifelong enjoyment of sports
SUCCESS
Final score
Positive experiences and learning for all children!
COACH
Judged by success (score)
Judged by progress of all children
ALWAYS KEEP IN MIND!
Children's soccer training has its own methods and objectives
Club soccer must focus exclusively on the needs, desires and interests of children, not on scores or championships!
---
More Information in the book "Modern Youth Training"
Recommended by: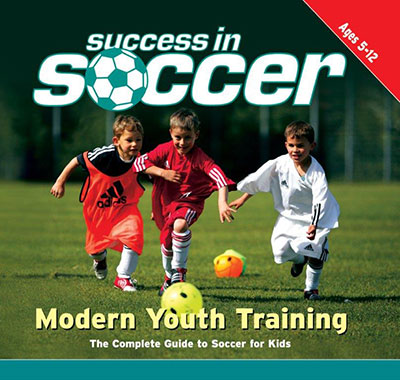 Official Soccer Coaching Book of the German Soccer Association with DFB coaches and educators Ralf Peter and Gerd Bode.
Some Graphics from this book: