Do you ever watch the elite teams performing smooth, silky counter attacking moves, where players have an almost psychic awareness of where to play the ball, and dream of replicating it in your own side? But have you always thought that your team isn't skilled enough or just not that lucky? The good news is that it can be achieved without exceptional technical talent – all it takes is having the right tactics. Successful counter attacking relies on players knowing how to position themselves and where they need to be to get the ball up the pitch and into the opposition's net.
The Art of Counter Attacking is a video series that shows you exactly how to train your team to counter attack like the elite teams.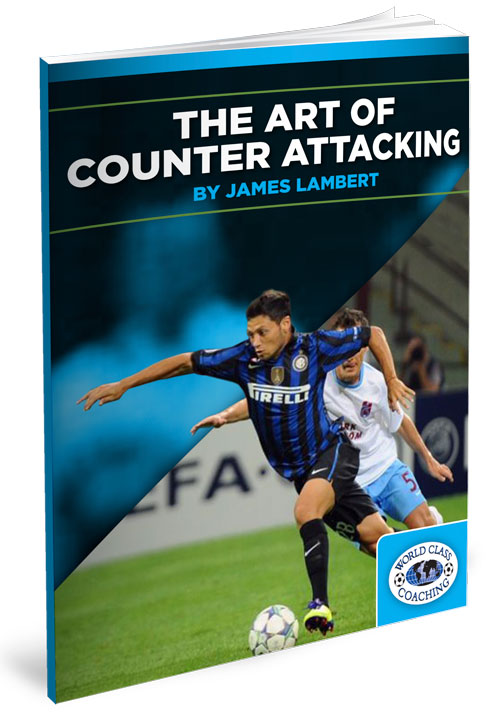 Some coaches prefer books and some prefer videos for their coaching material.  We will give you both.  We have created an eBook showing all the drills and exercises in the videos and it's your FREE when you order The Art of Counter Attacking video series.  So now you can look at a written description and easy-to-read diagrams while you follow along with the videos.
"THE MODERN ARCHITECT" OPTION ORIENTED COUNTER PRESSING
Jürgen Klopp
Formerly the Head Coach for Borussia Dortmund in the German Bundesliga and Currently the Head Coach for the Liverpool Football Club in the English Premier League
"Never venture, never win!" Sun Tzu, the Art of War
There are few coaches in the past decade who have taken to heart the words of Sun Tzu and incorporated them in their coaching philosophy as Jürgen Klopp. Klopp allowed his players the opportunity to venture forward and counter press as no team before him ever had. In return his players rewarded him and won! Utilizing the power of "Gegenpressing", which he called "the best playmaker there is" Klopp led Borussia Dortmund from the depths of the Bundesliga to the UEFA Champions League in a very short time period. In fact Klopp's tactical brilliance in terms of the counter press allowed BVB, a club with far fewer financial resources and big name players, to force German giant Bayern Munich, under both, Jupp Heynckes and Pep Guardiola, to adapt their Gegenpressing style at Bayern in order to reassert their dominance of the Bundesliga. Klopp developed his mastery of the Option Oriented Counter Pressing style of play working out of a 1-4-2-3-1 formation.
"THE POSSESSION GEGENPRESSER" ZONAL ORIENTED COUNTER PRESSING Pep Guardiola
Formerly the Head Coach for Barcelona in the Spanish La Liga and Currently the Head Coach for Bayern Munich in the German Bundesliga "Plan for what it is difficult while it is easy, do what is great while it is small." Sun Tzu, the Art of War